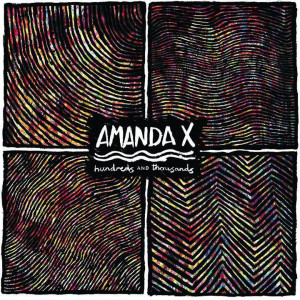 We are excited to be working with Philadelphia, PA's own Amanda X on their new 7″ EP, "Hundreds and Thousands." The two song 7″ EP features new tracks "Quilted" and "Juniper." This release follows up their 2014 debut LP, "Amnesia" released via Siltbreeze (Halo of Flies, Sebadoh).
With an uninhibited musical dynamic that could only be birthed from three friends, Amanda X delivers with ethereal vocal harmonies, heavy hits and solid guitar work. Formed in late spring of 2012, Amanda X's members set to work and self-released their first EP, "Ruin The Moment," on tape a few months later.
Amanda X is comprised of Cat Park (of Bandname on guitar), Tiff Yoon on drums and Kat Bean on bass.
—————————————-
"Hundreds and Thousands" 7″ EP
(The cassette is being managed by Summer Bummer Records):
Track listing:
Side A: Quilted
Side B: Juniper
The release is limited to 300 7″ EPs in the first pressing. Each copy comes with a digital download card, because it's 2015, ya know?
—————————————-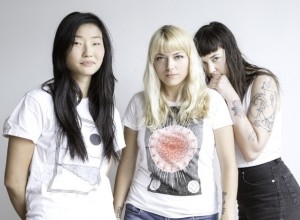 SELF AWARE's history with the band goes back many years, since we released Bandname's LP, "Breakfast," years later Cat Park is coming back home to the label and we couldn't be any more excited!
Amanda X have toured or shared the stage with such bands as Pissed Jeans, Mudhoney, Buffalo Tom, Parquet Courts, Protomartyr, Tyvek, Cheater Slicks, Dum Dum Girls, Scott & Charlene's Wedding, Purling Hiss and Counter Intuits.
Amanda X and Spirit of the Beehive will be touring the U.S. at the end of July and throughout August, go check them out if they make it to your town…
July 24th @ GIGAWATTS FEST — Brooklyn, NY
TOUR:
July 25th @ PhilaMOCA (OK FEST 2)– Philadelphia, PA
July 26th @ Spirit Lodge — Pittsburgh, PA
July 27th @ Ace of Cups — Columbus, OH
July 28th @ UFO Factory — Detroit, MI
July 29th @ Louie's Trophy House — Kalamazoo, MI
July 30th @ Beat Kitchen — Chicago, IL
July 31st @ The RecordBar — Kansas City, MO
Aug 1st @ Blvd Trash — Tulsa, OK
Aug 2nd @ High Dive — Denver, CO
Aug 3rd @ Kirby Court — Salt Lake City, UT
Aug 4th @ The Crux — Boise, ID
Aug 5th @ The Vera Project — Seattle, WA
Aug 6th @ Bunk Bar — Portland, OR
Aug 7th @ Yellow Room — Oakland, CA
Aug 8th @ Hemlock Tavern — San Francisco, CA
Aug 9th @ The Echo — Los Angeles, CA
Aug 11th @ Soda Bar — San Diego, CA
Aug 12th @ Club Congress — Tucson, AZ
Aug 14th @ The Mohawk — Austin, TX
Aug 15th @ Siberia — New Orleans, LA
Aug 16th @ Midtown Speakeasy –Tallahassee, FL
Aug 17th @ The Atlantic — Gainesville, FL
Aug 18th @ 529 — Atlanta, GA
Aug 19th @ Stone Fox — Nashville, TN
Aug 20th @ Mothlight — Asheville, NC
Aug 21st @ Snug Harbor — Charlotte, NC
Aug 22nd @ Strange Matter — Richmond, VA
Aug 23rd @ Black Cat — Washington, DC
(all dates w/ Spirit of the Beehive)
We will be releasing preorder info when it gets a little closer to the release. We don't want to have you order the record and then have to wait like 3 months to receive it. We assure you that they will have copies in time for their tour with Protomartyr. Yes, that Protomartyr.