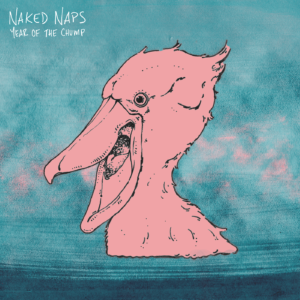 We're excited to be working with Naked Naps on their new LP, "Year of the Chump," check out the different preorder options available. if you are ordering multiple copies or are from outside the U.S., then please email us first so we can get you the best rate on shipping! selfawarerecords@gmail.com
100 on Seafoam Green Vinyl
100 on Orange "Creamsicle" Vinyl
100 on Pink Vinyl
also check out the preorder shirt and CD.
Limited to 300 copies in the first pressing. The release will also be available on CD and digital formats. Vinyl will be shipping a few weeks after the 12/1 release date. Please be patient and understanding while ordering!
1. Toyota Prius The Silent Killer
2. Frank Lloyd Wright Designed the Carport
3. Prisoner's Dilemma
4. Honda Civic '88
5. Torn Corners
6. Successful Sitcoms
7. World Heavy Weight Champ, Jack Johnson
8. Single and Ready to Linger
9. All My Exes Live in Text Threads
Naked Naps is an upbeat indie rock duo from Raleigh, NC. Their maturation into a local staple hasn't sacrificed the qualities in their songwriting that retain the urgency of needing to start a band. While clearly interfacing with the current DIY network, they pull decidedly from Ted Leo, The Thermals, and Mission of Burma, they at times hint at highlights from the playbook of American Football, leaving you wondering why emo ever became a bad word. Naked Naps prove you can put your heart on your sleeve without losing your cool, and give lo-fi a higher mission than easy street cred. (Paul Blest)
Naked Naps' contemporaries—Speedy Ortiz, Cloud Nothings, Waxahatchee—evoke '90s indie rock by nodding to grunge or pop-punk. But Naked Naps suggest both Cap'n Jazz's hyperactive arrangements and K Records' mix of confidence and simplicity. These songs can seem difficult, but they are ultimately beguiling. More than ever, Naked Naps' music lives up to its name, with urgent pop that balances intimacy, urgency and innocence. (Bryan Reed ~ Indy Week).